Buying a Fort Lauderdale Condo or Home?
If you're considering buying a home or condominium in the Greater Fort Lauderdale area, you'll find this website to be a useful resource in your decision making process. Whether you're looking for a house, townhome, villa or condo, take 2-3 minutes to fill out our Home Wish List form so we can get started on finding just the right home for you. Share your preferences with us so we can locate properties for sale and save you time.
Whether you're relocating to Fort Lauderdale for a new job or searching for your first home, a vacation condo or a luxury waterfront home, we can help you find it and guide you through the entire purchase process. Perhaps you're looking for income-producing rental property or simply want to buy a pet-friendly condo... we can find those, too!
Our team of professional real estate agents can show you any of the properties you find while searching through Fort Lauderdale MLS listings of homes, townhouses, villas and condos for sale. If you drive by a property that's for sale and want to see it, simply give us the street address and if it's available and meets your preferred criteria, we can arrange to show it to you. Also, if you have not already taken the important first step of getting pre-qualified or pre-approved for a mortgage, we can help with that.
Is your focus on Fort Lauderdale foreclosure properties? Are you interested in Broward County short sales of homes, townhouses, villas or condominiums? We can show you those as well. In the current real estate market, there are many good deals to be found in foreclosures and short sales throughout the Greater Fort Lauderdale area.
If you're new to the area or not familiar with the Fort Lauderdale residential neighborhoods or condominium buildings, take a few moments to browse through and learn about the Fort Lauderdale condo and home communities. As you're searching the MLS and finding homes for sale, you may find some of the resources available on our Buyer's Guide page helpful.
As experienced Greater Fort Lauderdale Realtors, we stay updated on local real estate market conditions and can help when it's time to negotiate a sale. When you work with us and you're ready to make an offer on a property, we can provide you with multiple listing service (MLS) comps of recently closed sales to help you decide how much to offer.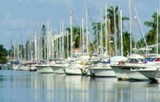 Fort Lauderdale ... a great place to live! Learn about Fort Lauderdale, Florida and what it has to offer.
Location: Fort Lauderdale is located in the heart of Florida's Gold Coast and is often referred to as the "Venice of America" for it's multitude of canals. Tucked between Miami-Dade & Palm Beach Counties, Broward County offers much to residents and visitors alike.
Employment: Several major employers including Motorola, American Express and Sun-Sentinel have called Broward County home for many years and we continue to attract more and new businesses every year. The Greater Fort Lauderdale area is also fast emerging as a center for international commerce.
Education: Broward County's public schools are fully-accredited and we have the nation's fifth largest school district. Those interested in furthering their education past high school can pick from among several colleges, vocational schools & universities.
Quality of Life: Broward County residents have 23 sun-drenched miles of coastline to enjoy. Divers can even explore a living coral reef accessible from shore. Outdoor enthusiasts can pick from the many Fort Lauderdale area parks and golf courses or go boating on the seemingly endless miles of waterways. Take in a play or visit one of several museums and art galleries.
Shopping & Dining: From the chic shopping areas such as Las Olas Boulevard to the large malls such as The Galleria, there's something for everyone. Eateries of all types also abound so you're likely to find one that fulfills what you're craving. At night, Fort Lauderdale comes alive at Las Olas Blvd. and the Himmarshee Street Entertainment District as well as along A1A.
Things to See & Do: View a comprehensive list of things to do in and around Ft. Lauderdale including nearby attractions, museums, shopping and more.
Selling Your Fort Lauderdale Home or Condo?
The first step to take before putting your property on the market is to determine how much you can expect to sell it for. We can help you decide how to price your home. Find out what your condo, villa, townhouse or home is worth in today's real estate market by taking a couple of minutes to complete our Fort Lauderdale property value request form and we'll do the research. With the data gathered in our free CMA (comparable market analysis), we can then determine a pricing strategy based on current market conditions.
Along with deciding on a list price, it's important to get an objective opinion on what you can do to get top dollar for your property. You're probably already aware that it's helpful to reduce clutter and de-personalize prior to showing your home. We can provide you with additional home staging tips based on our years of experience working with buyers.
Why list with us? Among other reasons, our team of Realtors offers a comprehensive marketing plan to present your condo or house in a professional manner and ensure maximum market exposure for your home so that it may sell in the least amount of time and for the best price possible. We specialize in marketing homes and condos throughout Fort Lauderdale and all of Broward County.
Are you upside down on your mortgage but need to move? Do you owe your lender more than your house is worth but you're in a situation where you must sell? We can help you try to sell your home and avoid foreclosure with a short sale MLS listing.
As a Greater Fort Lauderdale e-PRO Realtor, I know how to market your home to a global audience! We advertise on multiple websites visited by prospective buyers. We also include the maximum number of photos allowed on MLS listings, create a virtual tour as well as a floor plan of your home, provide you with full color feature sheets to display in your home for prospective buyers to pick up during showings, and more! Let us show you how we can make a difference when you're ready to list your Fort Lauderdale condo, villa, townhouse or home for sale.
NEWSLETTER: Whether you're ready to buy or sell, subscribe to our Real Estate e-Newsletter. It's filled with useful and timely information.

Home | Fort Lauderdale MLS | Home Wish List | Fort Lauderdale Condos and Homes | Fort Lauderdale Home Values | Buyer Guide | Contact Us
Leanne Paynter • (954) 846-1600 • United Realty Group, Inc.
Broker-Associate • Fort Lauderdale Florida e-PRO Certified REALTOR® • Graduate Realtor Institute
Member National Association of Realtors (N.A.R.) • Member Florida Realtors • Member Realtor Association of Greater Fort Lauderdale
Copyright© 2002-2012 Leanne Paynter. All rights reserved. No portion of this web site, including graphics or text, may be reproduced
in any manner without the prior written consent of the copyright holder. By using this site you agree to its Terms of Use and Privacy Policy.
SITE DISCLAIMER: All information contained herein is deemed reliable but cannot be guaranteed. To be certain, you should independently verify. If in doubt, consult with an appropriate professional.
Search Florida MLS Listings : Broward County Property Values : Broward County Real Estate : Plantation Florida Real Estate : Weston Florida Real Estate

Davie Florida Real Estate : Cooper City Homes : Pompano Beach Condos : Boca Raton Real Estate : Lake Worth Real Estate : Wellington Florida Real Estate
South Florida Commercial Real Estate : Broward County Commercial Real Estate : Florida Home Values : Broward County Property Management
Northwest Florida Real Estate : Florida Panhandle Real Estate : Jacksonville FL Real Estate : Marco Island FL Real Estate : Real Estate Agents

On this website you can find MLS listings of Fort Lauderdale real estate including homes for sale in Las Olas Isles, Rio Vista, The Landings, Victoria Park and Coral Ridge. You can also search the Greater Fort Lauderdale MLS for condos, villas and townhouses for sale in 49th St. Townhomes, Alhambra Place, Americas on the Park, Angeles View, Atlantic Towers, Atelier Lofts, Avenue Lofts, Bay Colony Club, Bella Caprese, Bellaggio at Coral Ridge, Berkley South, Bermuda Park, Birch Crest, Birch Pointe, Birch Square, Bougainvilla, Breakwater Towers, Britannia, Caribe, Carlton Tower, Casa Bayview, Casa Bella, Casa Victoria, Coral Ridge Towers, Coral Towers, Corinthian on the Intracoastal, Country Club Towers, Cross Fox, Denali Townhomes, East Point Towers, East Village Townhomes, Embassy Towers, Esplanade on the New River, Essex Tower, Everglades House, Fountainhead, Frances Terrace, Galt Ocean Club, Galt Ocean Terrace, Galt Towers, Harbor Club, Harbourage Place, Horizon House, Illini, Intracoastal Riviera, Jamestown Square, Leisure Beach, L'Hermitage, Maya Marca, Nautical Towers, Oceanage, Ocean Club, Ocean Manor, Ocean Summit, Pilot House, Playa del Mar, Playa del Sol, Plaza East, Plaza South, Point of Americas, Portofino on the Intracoastal, Regency Tower, Regency Towers South, Ridgeview Towers, Riviera, Royal Ambassador, The Royal Mariner, Sea Tower, Shore Club, Sky Harbour East, Southpoint, Spring Tide, Sunrise East, Sunrise Tower, Tamarindo, The Atlantic, The Carlyle, The Commodore, The Continental, The Ellington at Victoria Park, The Galleon, The Landings Condo, The Seasons, Tradewinds by the Sea, Vantage View, Venetian, Villa D'Este, Village at Harbor Beach, Vue Residences, Warwick and White Egret.